Central South Island
---
---
31 July 2018
The Rangitata River has long been regarded a special place by anglers, despite the apparent protection of a Conservation Order an additional 10 cumecs take of water has been granted
Future Rivers is pleased to be able to support a very dedicated band of Salmon Anglers as they battle to save the river from this exploitation
This process has already been going on for sometime with the initial consent hearings, however with the commissioners granting the consent, there is the just the one opportunity to appeal that decision
Deep Creek (Updated)
---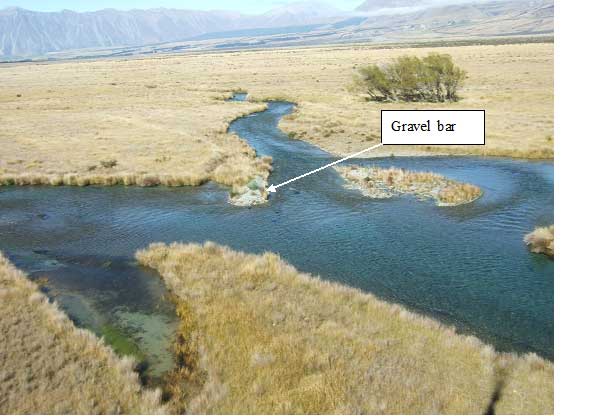 Inspection 09/08/2014 shows 1/4 of the flow now going down the diversion...
Updated info here: Deep Creek
One of our iconic Canterbury Spring creeks sadly had an illegal diversion applied to it some time ago. This issue was first raised in early 2012. With the requirement of a resource consent, uncertainty of the cost, and on-going conservation priorities, has meant that the issue still lays unresolved today
images/deepcreek_diversion.jpg
Above clearly shows the diversion. Previously only a small amount of water did run down the right hand side stream with most of the flow following the natural left hand channel.
The diversion bank itself has been removed with shovels by F&G staff and local help, however erosion had increased the size of the channel to beyond what can be fixed with shovels alone. Much of the flow continues down the diversion and the risk is that with erosion more and more will do so.
The effect of the diversion is a reduction of flow in the natural channel reducing salmon spawning area and trout habitat which has diminished fishing opportunities in this fabulous back country stream. The new channel holds little fisheries value as it is narrow and fast flowing over much of it's length.
Future Rivers would like to provide the funding to allow this to be resolved and is looking into gaining a resource consent for the work required to make this repair project happen as funding allows.
---
Ashburton River Network
---
Flood control work is an important work program designed to protect valuable infrastructure, farmland etc.
However, does it need to be at the expense of our recreational fisheries, can it be managed in a way that lessens the impact?
The picture opposite shows where a corner pool has been filled with gravel in a great little fishery..... Read more