Future Rivers goal is to provide funding for projects that preserve and enhance our outdoor freshwater recreational areas
What's been happening;
---
---
A number of prime fisheries have been impacted by Didymo infestations, the Buller, Gowan, Hurunui, Tekapo, Waitaki, Mararoa, and Wairau Rivers come quickly to mind. Research shows clearly how Didymo can impacts on our fisheries, with greatly reduced numbers, and the total fish biomass declining by up to 90%.
Is there a solution?
---
In spring 2013 Future Rivers bought to the attention of CSI F&G these types of works, a meeting was arranged between the Ecan river engineer, ourselves and CSI F&G. At that meeting the CSI F&G officer told the Ecan river engineer and ourselves that he 'could see few issues' with this type of work - at the time we were standing right in front of one of a number of pools the river control people had taken out in Bowyers Stream! I followed up with the CSI Chief Executive Jay Graybil and later the CSI Council, providing detailed information and photo's of the extent of these works. We had proposed developing a set of guidelines to minimise the impact for this type of work, not only to Bowyers Stream, but all fisheries, but CSI F&G undermined that completely - So this recent work could have been avoided had CSI F&G been more astute...
In responses to: Environment Canterbury has given an infringement notice to itself for polluting a stream
---
Should we expect more from our Politicians??
When politicians start misleading the public it's important to call them out - water management is a key issue for us - so we have responded to Nick Smiths new standards and shown how previous initiatives of his also lack integrity... To fix freshwater it needs to start at the top...
more
Expert Anglers all agree that Deep Creek needs to be fixed
---
5 Expert Anglers with combined fishing and professional experience exceeding 150 years say that Deep Creek (Rangitata River) needs to be fixed now and agree CSI Fish and Game have got this all wrong!
Allan Kircher, Martin Langlands, Kevin Payne, Dean Whaaga and Steve Gerard say the stream should be fixed now....!! more
more
Deep Creek Update
---
Unfortunately for all of those who care about this special place, the worst has happened....;
Deep Creek was the epitome of New Zealand fly fishing, stunning scenery, big fish - yes trophy potential, crystal clear waters, world class 4kms of water Lets be very clear - this stream was diverted illegally by a previous land owner, that shouldn't have happened. The Future Rivers Trust offer to pay the cost to restore the stream. However Central South Island Fish and Game in their wisdom have steadfastly refused to allow that to happen... this despite the very apparent ongoing losses to the fishery....
more
Irrigations Schemes powering ahead...
---
3 Canterbury Irrigation schemes have recently signaled plans to expand, the RDR have lodged consent applications to take another 10 cumecs from the Rangitata River and to build a large storage pond, the Hinds/Mayfield scheme have signaled an expansion of 4500 hectares, and the Central Plain scheme have signaled they'll move ahead with stage II irrigating a further 20,000ha! More intensification before the current issues have been mitigated.
More Good Work in the Tasman District!
---
This is an awesome example of how a community can work together to look after our environment!! Well done!
River Flood Protection Works
---
A few years back I highlighted the plight of one of our local streams here in Mid Canterbury where overly zealous river flood protection works had destroyed fish habitat, here the NZFFA's Dave Haynes tells us what is going on this time in the Nelson region;
Up Date June 2016
---
Sorry for the lack of updates, it's not that the trust hasn't been doing anything, it's more that it's largely been behind the scenes in an attempt to move things forward on Deep Creek in particular. To that ends I got myself elected onto the CSI F&G council so I could push this issue. I raised the issue at the December 2015 meeting where it met quite stiff opposition from some and the council wouldn't budge. Other interesting points regarding this is the recent prosecution of the farmer in the NI for diverting a stream with a maximum penalty of a 2 year prison term or $300K fine. And back in about 2003 I understand the Ashburton Council got into trouble for realigning Gentleman Smith stream up by L Heron - and were made to put it back to how it was. The question now is 'where to' regarding this issue - we have hit a brick wall...
Jetboats on the North Ashburton?
---
Is the North Ashburton river really flowing again?
It could be done, that is the message I want to convey
So what's going on in the North Ashburton, where has all this water suddenly come from?
Is this what we can expect in the future??... read more
more
Kakapo Brook needs our help
---
Kakapo Brook a picturesque small spawning stream up near Hamner is under threat from an irrigation/hydro power development. This highlights a worrying new trend being taken in the back country... for more info and to sign the petition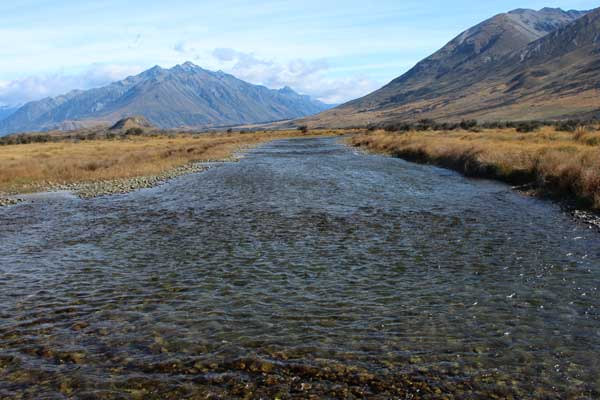 Deep Creek Salmon Spawning area's now almost gone...
---
This 165 meter stretch is the largest area that was well used by salmon, evidence of where they have dug their redds can be seen by the changes in water colour and in the indents in the gravel on the left hand de watered edges which clearly show it has been used by spawning salmon in previous years, and there's a redd (nest) in the foreground - this is all going to dry up completely very soon with a net loss of salmon spawning area... read more
Deep Creek
---
A superb back country stream in a superb location -
You might find this hard to believe, that such a superb stream can be treated this way - but it is 100% true, the middle section of this stream has had it's flow diverted from the main stem, and despite Future Rivers best efforts the powers that be are doing nothing - please read the details and act by contacting CSI F&G and asking for immediate action. Details here
The Hinds River - New ZIP released
---
March sees the release of the Zone Implementation Plan (Part of the CWMS) for the Hinds River - Ok if you can wait 21 years for a result!! Future Rivers' view is that this simply is not good enough - Summary here: Hinds River
more
Ashburton River network
---
Considerable amounts of 'control work' have been administered in anticipation of flooding and erosion around the Ashburton River Network. It was noted by Future Rivers that numerous sections of tributaries to the Ashburton River had been manipulated over the last months, to the detriment of the fishery and angling experience. Research into how the Canterbury regions river engineering is administered and what guidelines are in place for 'best practice' both in operational works and in consultation has led us to discussion around development of guidelines for the protection of fisheries and anglers recreational experience. We look forward to seeing the new Canterbury regional land and water management plan come into action and the use of it in the management of our natural resources.
more
Fish in Schools - Young Anglers 'Hooked on fun'
---
Young Anglers is a participation based schools model for raising fish and learning skills in freshwater environments. With support from the Future Rivers Trust and a lot of planning from hard working volunteers, this project has been made a reality. The aim of this pilot strategy is to develop a working model for nation wide facilitation in 2014 and drive greater interest and participation of youth in fishing.
The Fish in Schools project aligns perfectly with the Future Rivers philosophy. We believe this project can be the catalyst for change in the ways that education can develop the values of environmental stewardship in our youth. Follow this link to see more here.
more